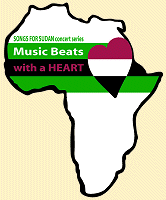 Songs for Sudan Concert Series
Produced by Lisa Cushing
Come hear "music beats with a heart". This concert series will feature musical performances by gifted and innovative artists, and all funds will benefit a children's orphanage and school in Southern Sudan. The concerts will be hosted by Marina Christian Fellowship on a monthly basis. Tickets are available for a donation of $15 and will be mailed at least one week prior to the concert date.
Marina Christian Fellowship is located at 12606 Culver Blvd, Los Angeles, CA 90066. (Interactive map). All donations are tax deductible. For more information, please call Lisa Cushing at
(310) 737-9387 or Marina Christian Fellowship at (310) 822-8862.
___________________________________________

The Songs for Sudan
Concert Series will be
on hiatus until further notice.

Check back soon for upcoming artist
information and concert dates.


___________________________________________

Lisa would like to thank the following performers for making recent concerts a tremendous success:

Angela Vicente
Royalty
Leo Vargas
BBWB
Fin Hill
Raquel Rodriguez
What is Love
Paul Wilkinson
Thena Dare
Nika Rastta
Israel "Izzy" Dixon
Julio Hanson

Anna Aguilar

Melanie Slayton

By so generously offering your gifts, each of you has truly touched the lives of those in need.